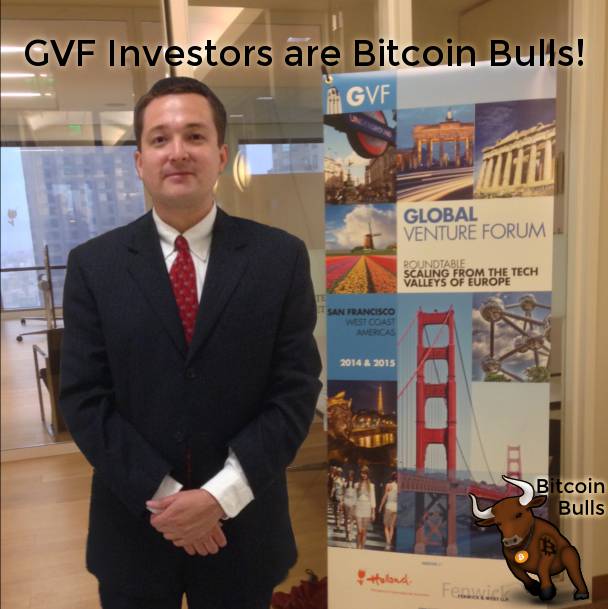 I was honored to be part of the 2014 Global Venture Forum. I participated on the Virtual Currency Selection Committee and as a forum attendee.
The Global Venture Forum is an invitation-only gathering that fosters business relationships across the US-Europe technology corridor. GVF 2014 includes Senior Executives from Amazon, A16Z, Cisco, Citi Ventures, Dell, eBay Marketplaces M&A, Index Ventures, Mozilla, SAP Ventures, Software AG, Telefonica Ventures, True Global Ventures, Europe's Angel of the Year and other industry leaders.
The forum focused on Internet-of-Things, Mobile, Cloud Services, Security/Privacy, eComerce, Fintech, and Virtual Currency.
Participants Bullish on Bitcoin
I'm happy to report the fintech participants and participants in general were bullish on bitcoin.
Everyone I spoke with had heard of bitcoin. People were either excited about bitcoin's potential or curious to learn more. It was a pleasant surprise to be in a non-bitcoin centric crowd and see people excited about bitcoin.
Forum attendees are people who are building the future so it was extra special to know they are excited about the promise of digital currencies.
Value Packed Day
The morning kicked off with a rock star panel on "Emerging venture models for Corporates &VCs" with Jamie McGurk (Andreessen Horowitz, Frederic Hanika (Software AG) and Shardul Shah, moderated by Jack Leeney from Telefonica Ventures.
Next up was another fantastic panel: "Market Insight: Scaling from European tech valleys" featuring William Stevens (Europe Unlimited), Zhong Xu (Lightspeed), Andy Castonguay (Machina Research), and Steve Ebin (Optimizely).
There were presentations from 15 emerging and growth tech companies. Lots of great entrepreneurs working on awesome tech or delivering a lot of value. Many of these companies were looking for partners instead of investors.
After the company presentations Christopher Mott (Global Venture Forum) moderated the "Domain trends & global models" panel featuring Sean Bohan (Mozilla), Dusan Stajanovic (True Global Ventures), Ramneek Gupta (Citi Ventures), Peter Bershatsky (Amazon), and Justin Hwa (eBay).
Uncovering New Investments
The forum expands my network and the opportunity to learn about new investment opportunities. In fact I hope to be testing a new investment in 2015 that will be a direct result from this forum!
It was an awesome opportunity to network with people looking to get deals done. It was great to be a part of the forum this year!